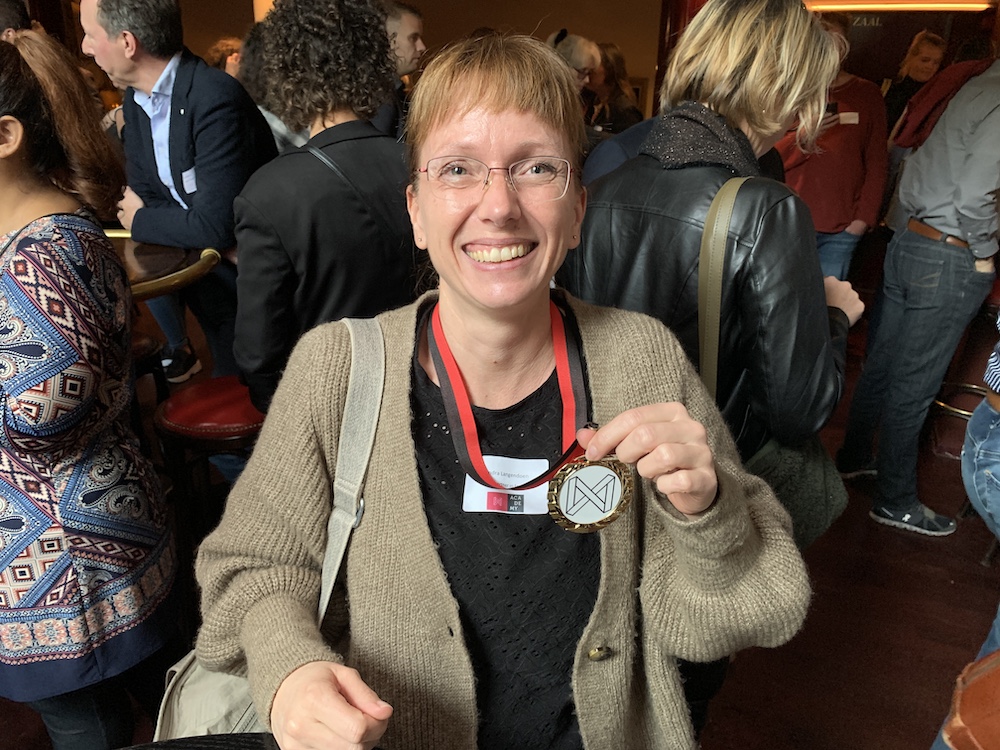 Sandra Langendoen, Academy student from the very beginning, was hailed as honorary student during our Congress.
Sandra Langendoen was one of the first students to enroll in our ManualMaster Academy, and she has no regrets about it. As an independent QA consultant, she is mainly involved in quality projects in the food industry as a thinker and a doer. She uses the ManualMaster software for all of her regular clients.
Expanding and Exchanging Knowledge

Through her studies at the ManualMaster Academy, Sandra expands her knowledge of ManualMaster and quality management (QM), keeps herself up-to-date, and exchanges knowledge with fellow students. Sandra says, "The Academy is based on three pillars: on-site training, MasterClasses, and tutorials. I prefer to attend the training sessions at ManualMaster itself, especially when new modules are introduced. That's where the most interaction with other quality professionals takes place, which can be very beneficial. The more you hear and see, the wider your QM insight can be applied."
The Academy gives you access to knowledge whenever it suits you.
That gives you freedom.
"ManualMaster continues to develop. Basic tasks such as creating documents and working with Visio can be done more quickly as a result. If you work with a module for an extended period of time, certain habits can creep into your work. Through continuous education, I stay up-to-date, maintain a clear view of the module structure, and unlearn old redundant habits. Since I also provide training to my clients, it's interesting to see how ManualMaster designs and shapes their courses. So I'm not only learning a lot about the content, but also about the format in which it can be done."
"What appeals to me about the Academy is that I have direct access to knowledge. You can acquire knowledge through various channels, such as seminars or conferences, but with the Academy, you can refer to this knowledge whenever it suits you. This gives you freedom."
Sandra follows the Academy both on-site and online. "Whenever it suits me, with the difference that in the classroom lessons, you can dive deeper into the material and ask specific questions. That's something you sometimes miss in an online tutorial. You have to make do with what's available."
Students Determine the Shape and Content
The shape and content of the lessons are largely determined by the needs of our Academy students. Sandra says: "During the training and through means like questionnaires, you can always share your tips and comments. In this way, both the Academy and the software develop based on where the needs lie. Those are two big pros for me. As long as ManualMaster develops, I develop myself."
Students can be supported within the Academy by a mentor. Sandra does not make use of this option. "I think a mentor is more suitable for people who do not yet know how to fully apply ManualMaster. For specific questions and to delve deeper, I can always turn to both trainers and consultants."
"The strength of ManualMaster lies in their out-of-the-box thinking during the software development process. Software producers often develop based on functionality. Button A should do this and button B that. With ManualMaster, any idea you might have to improve the software is considered."
ManualMaster's strength lies in its out-of-the-box
thinking when developing the software.
Sandra makes a culinary comparison. 'The modules aren't separate islands. The different components of the software communicate with each other, creating a complete system. It's like putting together a cake where all the flavor layers come together in one bite. The combined flavors create a wow effect. The freedom that ManualMaster offers is the icing on the cake. With the software, you can make a thousand connections between information, functionalities, and modules. Or you can only make two connections if you want, depending on how you want to structure the quality system. Think of it as one gigantic box of Legos. You can build something basic or build a castle in the sky. It's really fun to play with, but be careful, the box of Legos can be intimidating."
by Ad Killian