How It All Started
"We Wanted to Be Free More Than Anything Else"
On February 10, 1992, we (Jacco van der Pol and Fred Vahlkamp) found ourselves on the doorstep of the Chamber of Commerce in Dordrecht, thinking about what we would name our company. We were sitting in Jacco's white Opel Corsa. A lease car, because in addition to not having a company name, we also had no cash. Jacco was a self-taught software programmer and I had gained quality management experience working for an American manufacturing company. The combination of the two gave rise to the extremely awkward name Quality and Information Management Support, or QIMS for short. Although we stuck to KIMS phonetically, our customers and relations quickly ended up pronouncing our company's name as KWIMS. And for some reason we were unable to convince them otherwise. Once we had settled on a focus for ManualMaster, our current product, and had decided to name our company after it, we soon realised that our customers called us ManualMasterS. We don't mind the extra S. After all, there's a whole team behind ManualMaster, a Super team as far as we are concerned.
We were mainly motivated to branch out and start our own company because we wanted freedom. We wanted to be free from people who tell you what to do, we wanted to shake off the shackles of set working hours. Which is quite amusing when you realise that this desire for freedom ultimately resulted in software that is primarily aimed at laying down rules, instructing, safeguarding and documenting things. This all doesn't sound very free, does it? To be honest, we were not motivated by this sense of freedom when we set about developing the ManualMaster product. Instead, we spotted an opportunity in the market because many companies were struggling to get the documentation required as a result of legislation and regulation in order.
And yet… We managed to incorporate this idea of 'freedom' in our product nonetheless. After almost three decades in quality management, we have gained a lot of experience working with a very diverse clientele. We also realised that rules can actually offer freedom. We all value our autonomy. We want to encourage people to cherish this sense of personal responsibility and freedom of movement. We can achieve this by stimulating the management of organisations to think about this by sharing our ideas on this topic but also by applying ManualMaster intelligently in the organisation. Make sure that people have access to the information they need that helps them to do their job. This information must then be provided in a format that actually assists them in their work and that is also easily and quickly accessible. Because that is the only reason why you read and use it.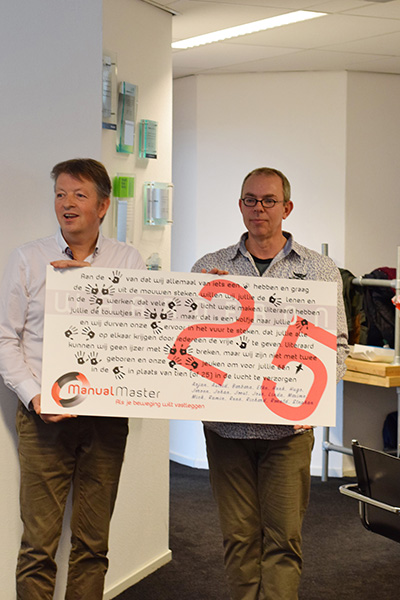 Find Out Why
Take a look at our website and see how this is applied in practice. Hundreds of customers in medium-sized and large companies use ManualMaster on a daily basis. We bet that you'll also be surprised by some of the applications. Would you like us to explain this in more detail, during a demo? We can, both on your premises or online. Drop us a line and we'll get in touch with you to schedule an appointment.
Kind regards,
Jacco van der Pol and Fred Vahlkamp
Beginners