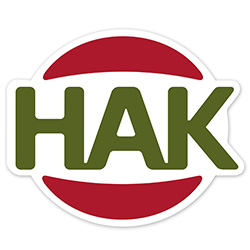 HAK embeds ManualMaster in its business operations
As a producer of food and fruit products, HAK is required to comply with an expanded set of food safety rules and standards that fall under BRC (British Retail Consortium) and IFS (International Food Standard) requirements, as well as legislation and regulations. Quality management and optimisation have become second nature for the organisation as a result.
As a leading brand, this food producer has incorporated a large number of requirements into its raw material specifications to ensure high-quality end products. To achieve this, the QA department at HAK uses various quality management systems like ManualMaster (Management Information System) and QIS (Quality Information System). QIS is used to register and manage production data and inspection results, while ManualMaster is linked to QIS to offer operators quick and easy access to information and documents related to their process controls.
Direct access to all information
Claudia Fransen, QA specialist and ManualMaster administrator, explains, "The quality management system offers considerable convenience, not only to us, but also to the external auditors. All information can be accessed directly, which is essential for our production staff. There are computers throughout the facility where the necessary documents for the various activities can easily be found. Our complete manual is stored digitally with ManualMaster. The system ensures that the documents can be easily managed and helps avoid having all kinds of different versions out there that can get misplaced."
An ingenious and effective folder structure with document codes makes it easy for the production departments to quickly find relevant information on procedures, process and work instructions. To make the enormous amount of HAK data accessible to employees, an inviting and user-friendly dashboard (web portal) has been developed together with ManualMaster that is conveniently divided into three basic segments:
General – notifications, including birthday calendar and weather forecast.
Web forms – for reporting and monitoring incidents, environmental and other complaints, unsafe situations, audits, inspections and even registering visitors.
Documentation – where the quality manual can be found.
Claudia adds, "Our dashboard is in continuous development. New topics are added and old topics are removed continually."
New Product Development (NPD) registration
The ManualMaster WebForms module used by the Quality Department to develop intelligent web forms ensures that all necessary forms are available to everyone. The reporting functionality linked to WebForms provides access to essential information.
Claudia continues, "When a new product is developed, our NPD (New Product Development) process must be followed, which is extremely easy to do in ManualMaster. During every process step, relevant actions and information are registered, including who has done or decided what during which phase of the process. Everything can be found quickly and easily. WebForms also makes it possible to easily establish actions. The system ensures working from a central point, enabling us to maintain a clear overview of the entire process and corresponding documentation. We use the PDCA method for this, while the system takes care of effective monitoring.
WebForms is a user-friendly module. Before I started working with it, I was already familiar with document management using ManualMaster. This made it easy for me to navigate the module quickly. Web forms can be made as easy or as complex and intelligent as you want. There are lots of options."
HAK employees actively use the forms created with WebForms. "The internal audit forms are frequently used, as well as the 'Visitor Registration' form. We also have forms to request articles and permits and for reviewing risky activities which, of course, are also stated together with the procedures. We use the information generated by our web forms for management reviews and audit reports. It also provides us with an overview of new developments in the company."
Risk management and rapid complaint response
ManualMaster's Risk Management functionality helps HAK with its risk analyses. This makes it possible to map the causes and measures that must accompany the identified risks.
Claudia continues, "A good reason to start working with Risk Management was to easily get the answers to such questions as which CCPs (Critical Control Points) and GMMs (General Management Measures) are found in our processes. If a complaint is received, Risk Management can be used to instantly filter the process instructions to find the corresponding risk. This lets us respond quickly and adequately and, if necessary, take additional measures to prevent the problem from recurring."
Evaluating suppliers and requesting certificates with Certifeye
Evaluating suppliers of raw materials, ingredients and packaging materials in terms of, for example, certification and internal process management is an important part of quality management for the QA department. Every supplier linked to food safety is monitored closely by HAK. The Certifeye online platform – ManualMaster's sister company – is used to this end. Certifeye makes it possible to request certificates, supplier evaluations, supplier declarations and registration forms of more than 140 suppliers.
Claudia explains, "Certifeye is extremely useful, especially since it provides a complete overview of all companies and corresponding documents all in one place. Certifeye also indicates the type of certification you need and when. It requests the necessary document automatically for you within a time frame that you configure. One can also assign each company a status. This is particularly useful for the various departments that want to know where they can place orders and where they cannot."
"The supplier status can indicate the types of certification required, which ones have expired, which ones still need to be applied for, which have been applied for and which companies we have approved for collaboration. In the past, I had to use Excel sheets for this, entering and updating all data manually. The only thing I knew for certain was that those lists were never fully up to date. The possibility to request certificates automatically by email and see when they have expired is particularly helpful."
"Questionnaires are made with Certifeye for supplier evaluations. And, yes, ManualMaster and Certifeye are also included in that. Every department can work with the program. Even after not using it for a while, it's so simple and user-friendly that it's hard to go wrong. One can apply all kinds of logic to the lists to make it possible to calculate whether a company is eligible for supplying products."
HAK employees cannot escape ManualMaster
For Claudia and her colleagues, quality management is a continuous process. "The challenges involve risk management and the corresponding preparation of reports. Making the system as accessible and user-friendly as possible is also important to us, not only for the operators, but also temporary employees using it for the first time."
After many years of use, ManualMaster is now fully embedded in business operations at HAK. Claudia adds, "Employees cannot escape it. Procedures are not available on paper, so you have to use ManualMaster. Various types of feedback and reports, such as unsafe situations and audit reports, require the use of the quality system. If forms are difficult to understand, we always ask for feedback on this. This makes it possible to continuously improve the forms and keep people involved with the use of the system."
Implementing a new system? Consider the user's perspective
"As an organisation, ManualMaster is fast and efficient. If you have a question, you simply send an email and, within moments, you receive an immediate response that your question is being handled. I never have to wait more than two days for a response. And if you call, they try to help you find a solution immediately. The helpdesk staff is always friendly and enthusiastic. And the feedback is good."
Claudia recommends that future users seriously consider the desires of users and the intended results. Claudia adds, "It's not just about storing documents, but also who needs to use and find all those documents and the kind of information that can be retrieved. When implementing a new system, consider first and foremost the user's perspective ."
HAK has been using ManualMaster for many years. This video was made eight years ago. In it, HAK employees explain the importance of food safety and quality for the organisation.
About HAK
| | |
| --- | --- |
| Main activity | Producing and preserving fruits and vegetables |
| Has worked with ManualMaster since | 1997 |
| Uses ManualMaster for | Document and process management – risk assessments and evaluation – creating intelligent online forms with the WebForms module |