'Writing Sound Quality Documents', the first MasterClass of our ManualMaster Academy, was attended by over 50 quality experts. The many reactions are telling and enthusiastic: 'The webinar helped us a lot in removing complicated texts out of our system' and 'Worth doing again'.
Surprising attendance

The attendance has surprised me, it was bigger than expected', says course leader and communications advisor Ger Dreijer. 'Apparently there is a lot of demand for tools for writing comprehensible texts among the authors of manuals and procedure texts.'
The language coach, who teaches language courses throughout the country, investigated the quality of instruction and procedure texts. Ger: 'In terms of language use, there is often room for improvement regarding clarity and understandability. People are aware of that. Otherwise they wouldn't have registered in such numbers for the webinar. The language tips came exactly at the right time.
Ger also studied how the average reader of documents goes through a text. 'It's no different from the average web user. He is just as impatient. Therefore, the same principles that apply to writing for the web and writing comprehension were applied, but focused on the genre of instructional and procedural texts.
Clearly formulated MasterClass

Participants' reactions to the webinar were as clear as the MasterClass itself. Some of the comments: 'Ger gives clear, straightforward and pleasant explanations', 'A good trainer, nice to listen to', 'Good tips and tools' 'It was nice to practice on the spot, it makes you remember better', 'It's great that there were practical examples' and 'A clearly formulated MasterClass'.
Ger: 'Participants also came up with good examples of how you can write down procedural texts more directly. The possibility to learn from each other gave the webinar an extra dimension.
The ManualMaster Academy will host the MasterClass again next year. Would you like to join the session? Let us know at info@manualmaster.com and we will keep you updated.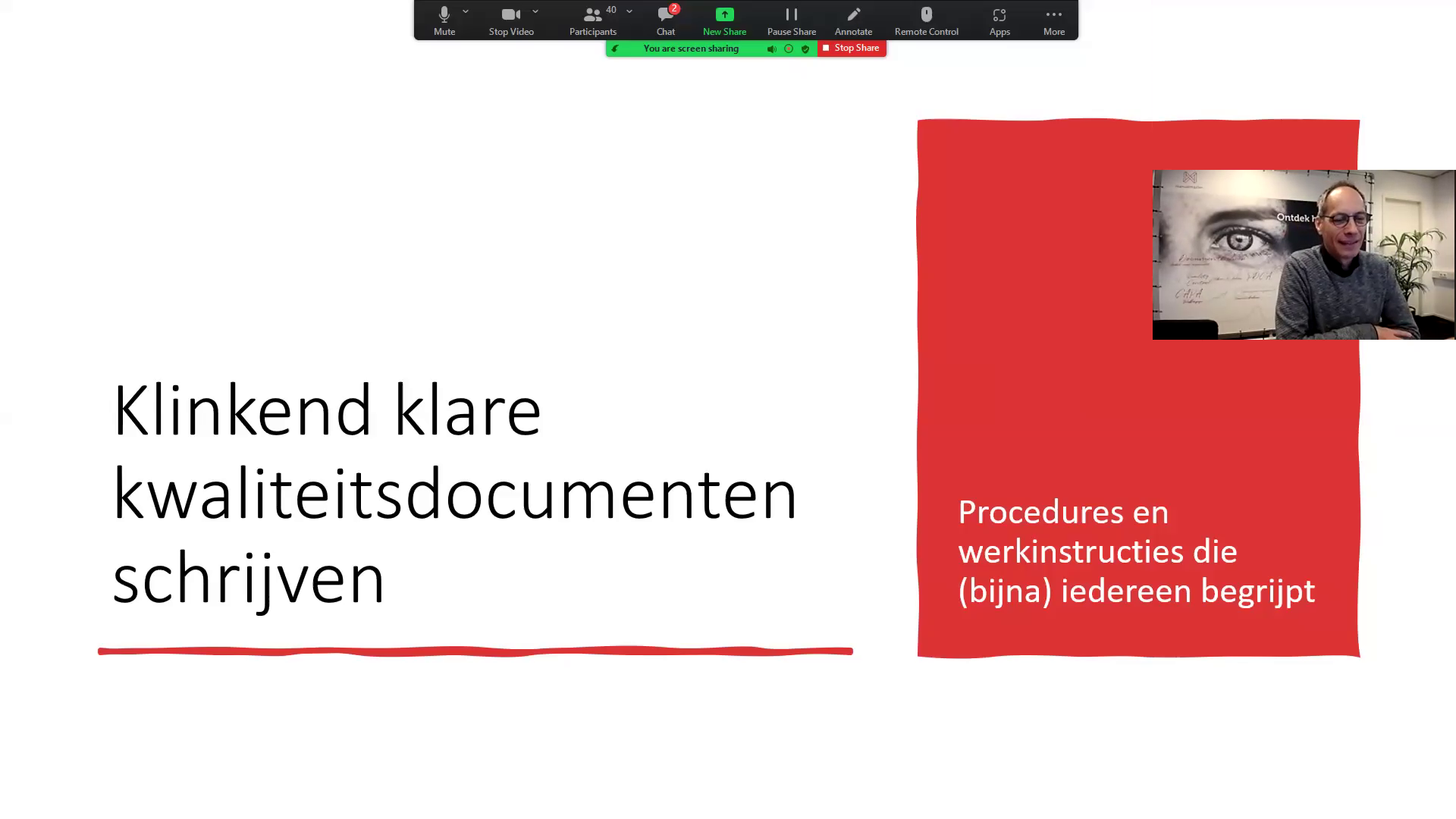 Screenshot of our first online MasterClass with instructor Ger Dreijer.