'With WebForms, colleagues have a major influence on quality.'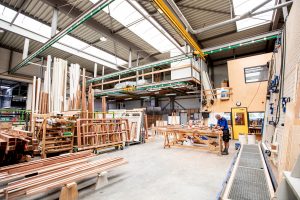 Bouwgroep Dijkstra Draisma (BGDD) is a construction company working in the healthcare, education, recreation, office, and housing sectors. The firm has the ambition to be a forerunner in creating innovation in the market and an inspiration with ideas for building the future. BGDD develops its own products and construction concepts, including the Dry Pile House. 
To guarantee the quality of work and products, the Quality, Labor and Environment team of BGDD, consisting of Wout Lemmens and Nynke Dijkstra, has set objectives for CSR, ISO 9001, ISO 14001, ISO 27001, ERB, VCA**, VGO and various other quality marks and certificates. To achieve them, the company uses ManualMaster with a key role given to WebForms, the module for compilation of intelligent web forms.
Document management and Reports are used as well, while (possible) risks will be inventoried and analyzed in the near future using the Risk Management module, which has yet to be implemented.
Colleagues exert a major influence on quality via WebForms.
Integrated Plan-Do-Check-Act Cycle 
BGDD's previous quality system had limited options and had become cluttered. All documents are now centralized in the quality system and all employees have the latest version. Nynke: "Previously, a lot of information was stored in Excel, but now we use the WebForms and Reports module for this. It provides ease of use and overview.' Wout: 'Thanks to ManualMaster, the documents are used actively and intensively, partly due to the Plan-Do-Check-Act cycle integration. Documents with instructions and information are easily available via WebForms, so now colleagues have a major influence on our quality management." 
Between 150 and 160 BGDD employees from various offices and construction sites now use ManualMaster. An impressive list of WebForms has been implemented for them. 
Nynke: 'On our construction sites, forms and documents are accessed on smartphones and tablets via QR codes. In times of Covid, we used WebForms as access control, so that we know who is (or has been) where." 
The web form 'Instruction new employee' has been designed for colleagues who come to a location for the first time. When newcomers arrive at a construction site, they fill in their details and indicate that they have read the rules and risks that have been recorded. When the form is signed, the on-site manager gets a notification and knows who's present on the location.
Intensive use of WebForms
Wout: "Creating a checklist on your smartphone, tablet or PC is of great value to us. The on-site managers want to focus on the building process and don't want to be bothered with administrative tasks. Using ManualMaster, it is easy to create lists that help the on-site managers in this process. The lists are saved in the right place and are effortless to find."
Using ManualMaster, it is easy to create lists that assist on-site managers with their process
Wout: "Forms for environmental alerts, accidents, theft, complaints, workplace inspections, targets, action lists, user experience questionnaires, holidays, supplier evaluations, energy contract requests, dangerous materials, safety instructions, all of these documents are created, saved, checked and sent to the right department using WebForms." The forms are used intensively. The reason for this is the positive experience our employees have when you remove additional tasks from their to-do list. We would never have expected that WebForms offered so many possibilities and the extent to which it would decrease our workload."
Nynke: 'The software's ease of use made it simple to get the employees onboard with the new system. Now, coworkers approach us with input and provide us with ideas to improve quality. We then use the Reports generated with WebForms during our management reviews."
BGDD was looking for a quality management system allowing them to save all documents in one central location and having them easy to access. They found this in ManualMaster. Nynke: "We needed strong version management and a simple search feature. Before ManualMaster, documents were spread all through the organization and got outdated quickly. Now, when we adjust information about an employee, the system automatically changes all relevant documents. The decisive factor in our decision was ManualMaster's freedom to shape the system to our needs and preferences. One can do a lot by themselves, especially after attentively following the ManualMaster training sessions."
With ManualMaster, online consultations with external auditors run 'smoothly and pleasantly'. Wout: "Since we gave an auditor login details to ManualMaster, it saved us as much as two days of work. The auditor could independently access all required information and documents. All the information he needed was available and easy to find. This indicates that we as QM people did our job well and that ManualMaster is well put together."
Software implementation took place on the company's location. Wout: "The knowledge and experience the ManualMaster employees share with you, makes you consider options you have not thought about before. This leads to a better quality management system. The training days give an additional boost in the right direction, so the system can be set-up even better."
In the coming years, Wout and Nynke will focus on the Risk Management module. Wout: "We want to turn BGDD into a learning organization. Quality isn't just about audtis and certificates, but also about keeping a close eye on all processes. In the future, instructions and internal training will be implemented into the system. We will probably do that using Q-Learning, ManualMaster's news module.
To conclude, Nynke shares a piece of advice for future ManualMaster users: "If you're going to use ManualMaster as a QM-professional, take a moment to consider how you want to structure the system beforehand. Don't forget to benefit from ManualMaster's advice in the process."
About BGDD
| | |
| --- | --- |
|  Main Activity | Construction company and creator of the sustainable concept Dry Pile House |
|  Works with ManualMaster since |  2019 |
|  Uses ManualMaster for | Document Management, WebForms, Reports, Risk Management |